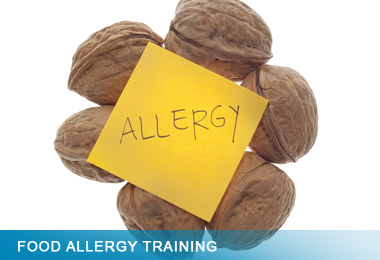 Food Allergen Training
Who should attend...
The new Food Information Regulations (FIR), enforceable from 13th December 2014, require Caterers to provide information on the 14 main food allergens in their dishes. Businesses must ensure their food safety controls encompass the new requirements and that they control food allergens from purchase through to service.
It is important that all those involved, chefs, catering staff and front of house staff etc, understand the risks posed by food allergies and are able to provide accurate and up-to-date information about ingredients in the foods on sale to customers who ask. It will not be enough for caterers to say they do not know whether a particular food contains any of the relevant allergens.
If you prepare, serve or sell food to others and you need some help in understanding your legal responsibilities regarding the new Regulations and how to protect your customers as well as your business, then this course will be ideal for you and your staff.
This popular half day session provides up to date information on the FIR 2014 requirements for Caterers, along with simple practical advice on compliance.
Course Content...
Food Allergy or Intolerance?
The 14 main food allergens
How to comply with the new Food Information Regulations 2014
Sources of advice & guidance
Managing allergies in my business
Question & Answer session
Learning Outcomes...
An understanding of food allergies and the 14 main allergens
How to comply with the Food Information Regulations 2014
How to control food allergens in the business
Confidence in catering for people with food allergies
Useful Information for Caterers:
The latest Safer Food Better Business pack has an updated allergy sheet in the Cross Contamination section:
http://www.food.gov.uk/business-industry/caterers/sfbb/sfbbcaterers
Download information from The Food Standards Agency website:
http://www.food.gov.uk/business-industry/allergy-guide
Course information
Duration:
3 hours
Pre-requisites:
None
Assessment:
Non examined
OFQUAL Accredited:
No
Certification:
Certificate of Attendance
Courses Available:
in-house
This course can be tailored to your setting to encompass any site specific aspects. We can also arrange formalised Epipen training if required. Please call to discuss. We offer flexible, affordable training that is user friendly and supports your due diligence.