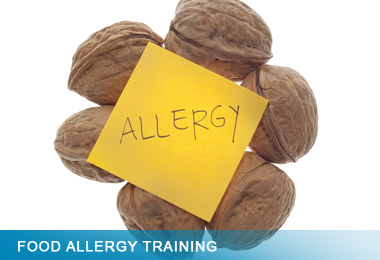 Food Allergy Training
Overview...
Food allergies are a growing problem, especially among children and can cause severe illness and even death, accounting for around 10 deaths per year in the UK. If you prepare, serve or sell food to others you need to understand how to protect people who are allergic to particular ingredients and also how to protect your business.

The new Food Information Regulations (enforceable from 13th December 2014), require caterers to provide information on the 14 main food allergens in their dishes. Businesses need to ensure their food safety controls encompass the new requirements. This may be a challenge to some businesses, but it is necessary to have controls in place from purchase through to service and that staff have a clear understanding of food allergens and can provide customers with accurate information.

The increase in various special diets, whether for personal, ethical or lifestyle choices, calls for simple and practical information to help food handlers understand the implications to the consumer and to the business.
Training...
Our courses are suitable for supervisors, managers, chefs, cooks and anyone who needs a more in depth knowledge of Food Allergies and/or Special diets, including how to comply with the new Food Information Regulations 2014.
For a clear and simple, yet practical approach look no further. The courses are delivered by experienced trainers with firsthand experience of the subjects providing an invaluable insight into both the caterers' and the consumers' perspective, with the onus on protecting the consumer as well as the business.
Food Allergy Courses...
If you are not sure what type of training would be suitable or you can't find what you are looking for we are happy to discuss your requirements and tailor a course that suits the needs of your organisation. We can also arrange formalised Epipen training if required. We offer flexible, affordable training that is user friendly and supports your due diligence.