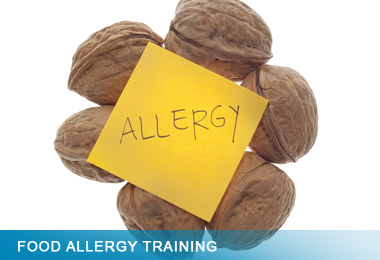 Food Allergy & Special Diets Awareness
Who should attend...
Whilst some people avoiding particular food ingredients will be making a personal, ethical or lifestyle choice, some will become ill or even die if they eat the wrong food.
If you prepare, serve or sell food to others you need to understand how to protect people who are allergic to particular ingredients and those who are avoiding specific foods due to other dietary requirements.
The new Food Information Regulations (enforceable from 13th December 2014), require caterers to control the key 14 food allergens from purchase through to service and provide accurate information to consumers on the 14 main food allergens in their dishes.
It is important to control allergy contamination risks within the food business and be aware of the implications of Special Diets to consumers. This course is suitable for food handlers, supervisors, managers and chefs or anyone with a particular interest in the subjects.
Course Content...
Food allergy or intolerance?
Anaphylactic shock
The 14 main allergens
How to comply with the new Food Information Regulations 2014
Special diets
Dietary requirements for coeliac disease, lactose intolerance and gluten/casein free diets and others
Sources of advice & guidance
Question & Answer session
Learning Outcomes...
An understanding of food allergies and the 14 main allergens
How to comply with the Food Information Regulations 2014
How to control food allergens in the business
An understanding of the key principles of special diets
Confidence in catering for people with food allergies and special diets
Course information
Duration:
4 hours
Pre-requisites:
None
Assessment:
Non examined
OFQUAL Accredited:
No
Certification:
Certificate of Attendance
Courses Available:
in-house
This course can be tailored to your setting to encompass any specific diets required. We can also arrange formalised Epipen training if required. Please call to discuss. We offer flexible, affordable training that is user friendly and supports your due diligence.